The Garrison Library will be exhibiting a selection of their newspaper and periodical collection as from Monday 16th March – 17th April 2015.
In today's media driven world informed by twenty-four hour news channels, viewer will often receive news of events with an almost chilling immediacy, very often only moments after these have taken place. These hard hitting images, which often refer to conflict and war, have become part of our everyday lives but reporting from war zones is not a new thing – advances in technology have however revolutionised the way these news items reach our homes.
This exhibition sets out to engage with a number of these issues through the Garrison Library's newspaper and periodical collection as we take a hundred year look back at the First World War. We will be focussing on a very self contained period by displaying material that refers to reports on the Great War for March 1915. In doing so we hope to draw attention to the role of the war correspondent, that of the war artist and of photography by displaying periodicals such as the Illustrated London News and Punch. Images, as we shall see, played an important role in conveying the harsh reality of trench warfare. We will also be looking closer to home through the GibraltarChronicle, to reflect the mood and opinion of the war in Great Britain and in Gibraltar.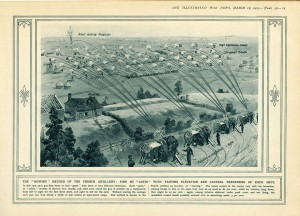 The Garrison Library has, since 2014, been marking the First World War with a silent, ongoing display of the Gibraltar Chronicle. Every day we turn a page to signify both the passing of time and to draw attention to the reports coming in daily from the Front.
This exhibition is supported by the Gibraltar Chronicle.
Louis Raemaekers (1869 – 1956) was a Dutch painter and cartoonist for the Amsterdam Telegraaf . Published in England in 1916, these images from the 'Land and Water' edition of Reemaekers' Cartoons depict the horrors of the trenches and the devastation of Europe following the German invasion of Belgium in 1914. His illustrations tell the story of the broken refugees who poured into Holland by tens of thousands to escape the war. So moved was Raemaekers that he even travelled to Belgium to see the German onslaught for himself.