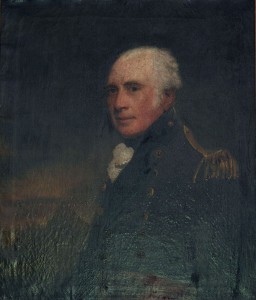 The links between the Library and the Military are historic. The Library was established in 1793 by Captain (afterwards Colonel) Drinkwater, the historian of the Great Siege of Gibraltar, 1779-1783 because of the lack of reading materials available. Works on the current building commenced in 1800 under the auspices of General Charles O'Hara, Governor of Gibraltar. These were completed in 1804 under the governorship of the Duke of Kent, Queen Victoria's father. The Librarian at that time was Captain Fyers (afterwards Major-General) of the Royal Engineers, but his role in the Library's evolution went much further in that he was the architect and the driving force behind the Garrison Library building as we see it today.
Captain Fyers was in fact one of the original members of the Library committee and a co-signatory of the 1799 circular to officers regarding the plans to expand the Library.
The links, therefore, between the Royal Engineers and this library go back to the very beginning of the Library's history.
The Gibraltar Garrison Library remained as a military library for over two hundred years and up until September 2011, at which point the Library was handed-over to the Government of Gibraltar.