HOW ARTISTS HAVE DEPICTED IT OVER THE CENTURIES
By Harry Fletcher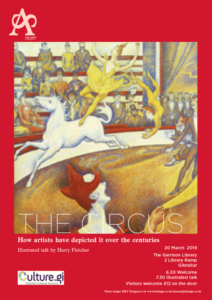 I view the circus across the centuries, through the eyes of artists such as Seurat, Degas, Lautrec, Tissot, Sickert, Chagall, Hopper, Picasso, Leger, Calder and Cindy Sherman. Clowns, acrobats and trapeze artists were their most popular subjects. I explain how the artists became fascinated by the experience and how it affected them.
You will meet Degas' Miss Laia, acrobat and trapeze artist, who in 1879 was raised to the trapeze by her teeth. Cha-U-Kao, dancer, clown and acrobat, enchanted Henri de Toulouse-Lautrec. Confined to a mental hospital in Neuilly for three months in 1899, Lautrec drew about 40 circus scenes from memory. The lively style, remarkable detail and the meticulous execution of the drawings resulted in his "liberation" from the hospital.
The arrival of the Cirque Medrano in Montmartre, was a catalyst for the change of Picasso's work from "The Blue Period" to "The Rose Period". Laura Knight was given special permission to paint Bertram Mills' star performers during rehearsals and backstage. A splendid time is guaranteed for all. You will be on the edge of your seat!