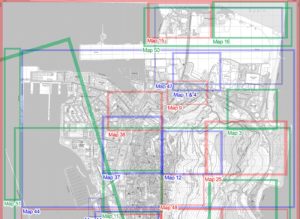 The team at the Gibraltar Garrison Library, assisted by Cpl Tim Hammond, Command Photographer, have embarked on a collaborative project with the aim of creating a digital archive of the Ordinance Survey maps of Gibraltar held at the Library.
The archive is comprised of 53 Ordnance Survey maps from the late 19th to mid. 20th century with each map providing details of geographical and landscape features of Gibraltar, including boundaries, buildings, recreations spaces, footpaths and roads. Importantly, these maps had formerly been used for operational purposes and therefore offer an additional layer of data which places their function within a significant historical context.
The legend using a modern map of Gibraltar identifies the area of Gibraltar each map refers to.
To view the maps, please click here.